Young naturalist inspires joy and shares his autistic perspective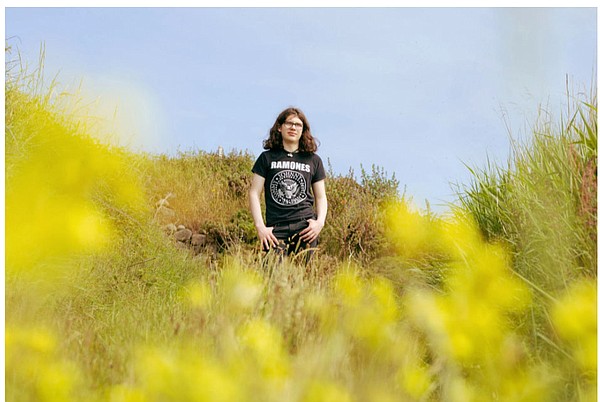 As he carefully walked from one moss-lined boulder to another, Dara McAnulty described her rules for observing nature.
"You will never see anything if you bring a camera," he said of this coastal part of Northern Ireland, "and you will certainly never see what you intend to find".
His rules quickly turned out to be true. McAnulty had wanted to use the hike near his home to show off the local curlew population, but it was high tide – with waves sending salt spray over the rocks – and there were no birds to see.
Instead, he crouched down to gaze into a rock pool in search of his latest obsession: shrimp. The algae swayed in the water, but there was no sign of marine life. Then suddenly he noticed the slightest movement. "Oh, there's a shrimp boy! " He shouted. "Oh my God, this is amazing. Can you see it? Can you see it?"
McAnulty pointed at a translucent creature, about an inch long, rushing into the pool. Then he saw another, even more, and started talking enthusiastically about shrimp – how they work, what they eat – before stopping.
"Sorry," he said. "I literally just did a biology test on the circulatory system of shrimp."
McAnulty, 17, is set to become one of Britain and Ireland's most acclaimed nature writers for his work brimming with passion and open to his autism. Her first book, "Diary of a Young Naturalist", published last year by Little Toller in Great Britain and published last month by Milkweed in the United States, won the Wainwright Prize, Britain's biggest prize for writing about nature.
Critics have showered him with praise. "It really is a strange and magical experience," Christopher Hart wrote in The Daily Mail, before comparing McAnulty's writing to that of poet Ted Hughes.
Robert Macfarlane, another nature writer whose books include "Underland" and "Landmarks," said in a telephone interview that he was shocked by McAnulty's handwriting after first stumbling upon it in line four years ago. "I remember thinking, 'What's that voice? ""
Looking through McAnulty's eyes reveals a world that "sparkles differently," Macfarlane said. He then began to quote his favorite lines from "Diary of a Young Naturalist", such as one where the author describes his family as "as close as otters" and another on "the art deco lines of a madman of Northern gannet ".
Macfarlane added: "You might think he is an award-winning young writer for his youth, but he is a master of one-liners."
McAnulty, in an interview at his home, said he has been obsessed with nature for as long as he can remember. With his brother and sister, he spent days as a child "climbing trees, rustling, doing things most parents would never allow their children to do." His mother, a former music journalist, and his father, an conservationist, nurtured this passion, even if the bullies at the school took offense.
One day, while struggling in primary school, the Royal Society for the Protection of Birds visited to talk about the reintroduction of the red kite to Northern Ireland. "I listened, for the first time in a long time," he wrote, and it made him want to fight for nature as well as play in it.
But he only started writing about it because of his autism. "I need to write, to understand what's going on," he said, "otherwise it's all going on in my brain, causing damage there."
McAnulty started his own blog at the age of 12. His first articles were simple animal profiles, with titles like "Magical Moths!" But when he was 14, Little Toller asked him if he wanted to write a series of articles for his website. Once McAnulty started, he realized that what he was writing could be a book.
"Diary of a Young Naturalist" is divided into seasons of the year. In the spring, McAnulty's writing is filled with the joy of being outdoors. On a trip to Rathlin Island in Northern Ireland, whose cliffs are a kaleidoscope of birds, he tries to observe one species after another, like "a fulmar, dozing and waiting, a queen on his throne "and puffins," little inspectors, "flying from burrow to burrow.
The diary entries are also candid about how autism is affecting McAnulty's life. "Dandelions remind me of how I shut myself off from so many people," he writes, "either because it's too painful to see or feel, or because when I'm open to people, ridicule comes. "
In the summer, her family is preparing to move into a new home. He is overwhelmed by thoughts of change and loss of his favorite landscape, until one day he collapses. "I'm overwhelmed right now, completely underwater," he wrote. He begs his parents to dig up their plants and bring them.
"For most of the book, I'm in the wrong place," McAnulty said, which he hadn't realized at the time. "I don't think you realize how dark something is until you turn the lights back on."
He said he never considered leaving any of those experiences aside. "It's a diary. If there are pieces of me missing, I'm going to pass for a human, and it will be weird and awkward," he said. "Half of my decisions in the book wouldn't make sense if I didn't mention that I have autism, and the feelings wouldn't be unless I mention that I was bullied."
The book is ultimately edifying. In the fall and winter, McAnulty's pain eases as he moves to a more supportive school. Inspired by Greta Thunberg, the Swedish environmental activist, he is leading a school strike to highlight inaction on climate change. He travels to London to help deliver a "people's manifesto for wildlife" to the British government. He speaks at the first Irish meeting of Extinction Rebellion, a group whose members are regularly arrested. All of these efforts build on previous conservation work, such as raising funds to track and save raptors, her favorite birds.
"Dara has been instrumental in raising awareness of the persecution of birds of prey among people of all ages, from all walks of life, in a way that many environmentalists have not been able to control," Eimear Rooney of the Northern Ireland Raptor Study Group, which monitors birds of prey in the country, said in an email.
But McAnulty's writing does not attempt to overwhelm readers with planetary collapse or species extinction. It was deliberate, he said. "Everyone's been pummeled around the head before."
Her next book, "Wild Child," due for release in Britain this month by Macmillan Children's Books, encourages children to seek out and protect the natural world. He is already preparing another book, he said, on his peregrinations in Ireland, linking nature to myth. Once done, he wasn't sure what would happen, but "the writing will never go away from my life," he said. "I need it."
On the Moneydarragh coast, McAnulty continued to step over pieces of blue plastic, rubbish from the local port where fishermen threw their gloves and nets into the sea. The sight infuriated him, he said, and he planned to organize a shoreline clean-up, but for this moment he wanted to forget that and enjoy the scenery.
As a strong wind blew his hair around his face, he showed off some of the little things he loved: a tuft of pink wreckage, a small whelk.
He still needed some recovery time after interviews like this, McAnulty said. "But being in the wild always helps. I'm recovering right now."
Read more "Diary of a Young Naturalist" By Dara McAnulty Published in the United States on June 11 by Milkweed 224 pages $ 24.75 Hardcover
No more news
Read more
"Diary of a young naturalist"
By Dara McAnulty
Posted in the US on June 11 by Milkweed
224 pages
$ 24.75 hardcover