US Monthly CPI and Core CPI, Germany ZEW Economic Sentiment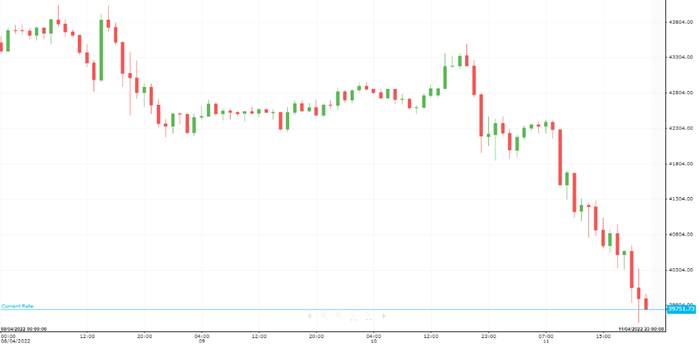 The dollar rose on Tuesday, with the dollar index (USDX) ending the day just below the two-year high hit on Friday, supported by soaring US Treasury yields. Benchmark 10-year bond yields rose to their highest level since January 2019 on expectations of more aggressive monetary policy tightening from the Federal Reserve.
Against the Japanese yen, the dollar hit highs last seen in 2015 as the Bank of Japan hinted that it would most likely maintain its accommodative monetary policy, unlike other central banks such as the Fed and the Bank of England. The CNH is another currency that has depreciated against the dollar as markets appear concerned about capital outflows and benchmark yield differentials between China and the United States.
Sentiment in equity markets remains broadly negative for the day, under pressure from steep losses in nearly every sector of the S&P except for industrials, with energy stocks suffering the highest losses.
Economic releases due on Tuesday include France's trade balance, monthly CPI data and Germany's ZEW economic sentiment, the UK will announce its jobless rate and later in the day investors will be watching closely for US monthly inflation indicators, CPI and core CPI for possible signs of easing inflationary pressures. Analysts predict an 8.5% annual growth in consumer prices, the highest since 1981.
Bitcoin
Cryptocurrency losses accelerated on Monday as markets appear to adopt a risk-averse attitude. Bitcoin, the largest cryptocurrency by market cap, fell 7.6% on the Vestle platform, ending the day at around $39.8K, its lowest level since March 16. Further pressure on Bitcoin came after the CEO of BitMEX gave a BTC price target of $30,000 for June.
Ethereum, the second-largest cryptocurrency, lost around 8.95% of its value on Monday, dropping below $3,000 while Luna, Avalanche and Cardano recorded losses of 13.5%, 12.8 % and 11.2% respectively. The overall crypto market cap sits at around 1.93 billion in Tuesday's Asian session.
WTI oil
WTI continues to fall on Monday, ending the day down 2.75% on the Vestle platform and reaching levels last seen in February, as news of Covid-19 lockdowns in China, the second largest economy in the world, as well as reports that IEA member countries and the United States are about to release millions of barrels of oil into markets and are weighing on energy prices.
On Tuesday, the monthly report on the oil market will be published by OPEC. As usual this week, the American Petroleum Institute (API) releases its weekly statistical bulletin which, among other data, includes statistics on weekly changes in crude oil, gasoline and distillate inventories. Then, on Wednesday, the Energy Information Administration (EIA) also released similar data. Also on Wednesday, the International Energy Agency (IEA) releases its monthly OECD oil statistics.
USA Tech 100
Major stock indexes like the US 500 and US Tech 100 fell 1.69% and 2.3% respectively on Monday, with Treasury market returns weighing on major market players such as Microsoft, Alphabet and Apple , with investors anticipating Tuesday's economic release on inflation.
Microsoft, Alphabet and Apple fell 3.88%, 3.12% and 2.54% respectively, as the benchmark 10-year Treasury yield hit a new three-year high on the day. Tesla fell 4.89% after data showed auto sales in China fell in March, affected by recent COVID-19 outbreaks in the country. Nvidia fell 5.27% after Baird downgraded the chipmaker.
This week, the new earnings season is set to be on Wednesday with Delta Air Lines and JPMorgan Chase releasing their results, followed by UnitedHealth, Wells Fargo, Goldman Sachs and Citigroup on Thursday.