Roger McGuinn solo concert review: Still thriving at 79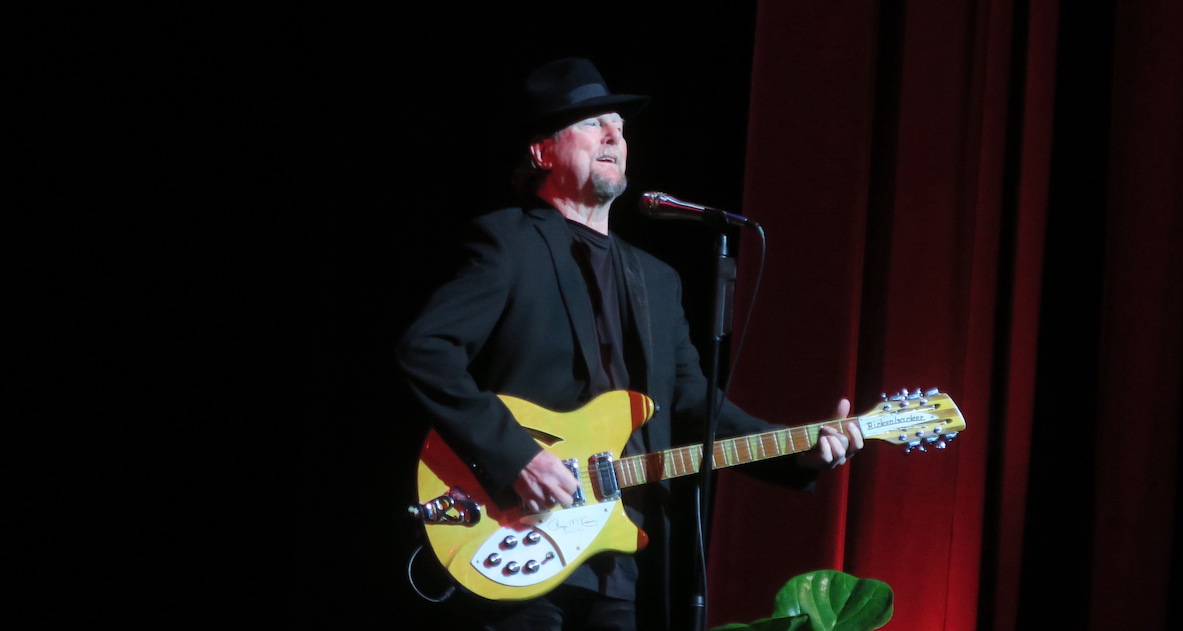 Roger McGuinn's performance on April 22, 2022 at the Poway Performing Arts Center, an intimate theater in San Diego County, was like listening to great music and reading a great book, all at the same time.
The legendary Byrds co-founder – and architect of the band's jingle-jangle electric folk sound – was accompanied on stage by only a handful of guitars, including his 12-string electric Rickenbacker and a banjo. And the repertoire of his two-hour show was equal parts songs and stories.
It was McGuinnconcert formula for years. And while there have been occasional detours to backing a full band — like 2018's "Sweetheart of the Rodeo" anniversary tour with Byrds co-founder Chris Hillman, backed by Marty Stuart and (the aptly named) the Fabulous Superlatives – his solo exhibitions are so mesmerizing, so enchanting, so uplifting, that I've seen him five times in the past four years, most recently traveling 130 miles to see his July 2021 performance in northern Los Angeles County. Stories are so important to him that he won't play in bars, nightclubs or dinner theaters, where there's too much commotion.
Fortunately, given the high gas prices, this show was much closer to home, and once again fans witnessed McGuinn's transformation from a typically shy and reserved man into one. of the most engaging, charming and talkative artists as he led them on a musical journey through his life.
As the lights dimmed, he took to the stage strumming and singing "My Back Pages," one of more than a dozen Dylan songs that the Byrds have reinvented as their own, changing the time signature to 4 /4, employing what McGuinn calls "a Beatles beat". ", and reducing the length to less than three minutes "for AM radio". He told the audience that it became "kind of a theme song" for him and recalled playing it on stage during of Dylan's 30th birthday concert at Madison Square Garden in October 1992 with an all-star band including George Harrison, Eric Clapton, Neil Young, Tom Petty and Dylan himself."They used my arrangement," he says proudly "And I'm looking at the teleprompter – some of the guys didn't know the words by heart like me – and it was programmed with the official Bob Dylan songbook, and the words were scrolling by and I'm like, 'Man, this isn't is not how I learned it unofficially. I sang it badly all these years.
Watch Bob Dylan, Roger McGuinn, Tom Petty, Neil Young, Eric Clapton and George Harrison perform "My Back Pages" in 1992
From there he traveled back in time to his early teenage years in Chicago, the son of James McGuinn, author of the bestselling book Parents Can't Win, and his mother Dorothea. He said he was given a transistor radio when he was 13, then sang and strummed the opening verse and chorus of "Heartbreak Hotel". "You didn't think I was going to do a full Elvis Presley rendition," he told the audience, "which really caught my attention. Before that, I had never wanted to play music. I had heard songs like 'How Much is that Doggie in the Window' and 'When the moon hits your eye like a big pizza pie' and for some reason songs like that didn't appeal to me to get up and play some music.
Related: When McGuinn paid tribute to Tom Petty
But soon after, McGuinn says, he received a guitar for his 14th birthday and learned to play by listening to rock 'n' roll and rockabilly records from Johnny Cash, Carl Perkins and Gene Vincent – here he has played a few riffs from "Be Bop a Lula" – and began bringing his guitar to entertain classmates at Chicago's private Latin school, whose other notable alumni include Nancy Reagan and Adlai Stevenson III. "I discovered something wonderful," he said. "Girls liked me better."
McGuinn then enrolled in the Old Town School of Folk Music in Chicago, where he developed a love for folk music after seeing a performance by Bob Gibson. "Burl Ives didn't sound like that," McGuinn deadpanned. He was also introduced to other early folks such as Odetta and Pete Seeger and learned to play the banjo and 12-string guitar, a favorite of Lead Belly.
Through stories and songs, McGuinn took audiences through the early years of his career, playing coffeehouses and supporting the Limeliters, the Chad Mitchell Trio and Bobby Darin, who then took them to the famous Brill Building in New York as a songwriter.
From there, McGuinn jumped off a bit, landing on the Byrds formation; his solo career and tours with Bob Dylan's Rolling Thunder Revue (1975-76) and, a decade later, with Dylan and Tom Petty; and his love for sea songs and traditional folk music.
He spoke and sang: "Mr. Tambourine Man" and "Turn! Turn! Turn! the latter being a revamp of a Pete Seeger song based on the biblical book of Ecclesiastes. McGuinn recalled hearing Seeger later say, "I sang that song, never really expecting it to be well known, and then this guy I never met picked it up and made some. made a hit record." McGuinn beamed and gestured as the audience burst into laughter.
He talked about writing the "cliff" part of "Chestnut Mare" years before the Byrds recorded it for their 1970 Untitled album. While performing with the Chad Mitchell Trio, McGuinn was hired for a 90-day US government-sponsored tour through Latin America. "It was pretty exciting," McGuinn recalled. "You would hear machine gun fire and then they would take you a few blocks out of harm's way and you would look up and see 'Yankee Go Home!' and the CIA guy said, "Don't pay attention to that, it's been around for a long time" because the blue paint is still running down the wall. To get away from it all, I took my guitar to a cliff overlooking the ocean and I imagined this little riff… I didn't know what to do with it at the time because I wasn't a songwriter so I laid it far in the back of my head, and years later , I was writing a song with Jacques Levy about a horse coming down a cliff and I was like, "Cliff – I have cliff music." So I put that little bit into this next song…"
Prior to performing Tom Petty's "American Girl," McGuinn spoke of hearing the song for the first time: "I was getting ready to do an album for Columbia Records and I had most of the songs ready to go, but I needed some songs outside. songs to complete, and my manager was around the corner putting on records and tapes. He put on this song that sounded so familiar, the vocal part, that I was like, 'Wow, when did I record that?' He said, 'That's not you.' I said, 'I know. What is that?' He said, "It's this new guy, Tom Petty," and I said I wanted to meet him. A reunion was arranged, McGuinn and Petty became friends, and soon after, Petty and the Heartbreakers opened for McGuinn at The Bottom Line in New York.
Listen to McGuinn performing Tom Petty's "American Girl" in 1977
A decade later, McGuinn's world tour with Dylan and Petty happened by chance. McGuinn and his wife, Camilla, decided to attend Petty's show in Tampa. While waiting for the music to start, fans in the stands were throwing Frisbees, and one hit Camilla in the eye. "It wasn't serious," McGuinn recalled, "but the ushers saw it and thought we should go backstage and have someone take a look at it. So, so we were going backstage, Tom and the Heartbreakers were coming out to play, and when he saw me in the room, he said, "Roger McGuinn!" You gotta come up and do some songs with me. Well, that's it. is Tampa, in the summer. I was wearing white shorts and a red Hawaiian shirt. I kinda looked like I was going to a Jimmy Buffett concert. But I got up and did some songs and the next day, Tom called and invited us to the beach hotel he and his group were staying in. His daughters were quite young at the time, and we were flying kites on the beach, and he casually mentioned, " In a few weeks I'm going to tour Europe with Bob Dylan, I'm going to ask Bob if you can come.
Other highlights of the show include "Lover of the Bayou," a McGuinn song he recorded with the Byrds as well as on his third solo album (and which Petty covered with his first band, Mudcrutch); "Eight Miles High", Byrds' big hit whose rise on the charts was blocked by DJs who feared the song's "high" was a reference to drugs, not running away; "King of the Hill", a song about "Dad" John Phillips' descent into drugs written and recorded by McGuinn with Petty for McGuinn's 1991 album Back from Rio; and two songs from his acclaimed 1976 solo album, Cardiff Rosethe sea chant "Jolly Roger" and "Dreamland", a song Joni Mitchell gave her while on the Rolling Thunder Revue tour bus a year earlier after he asked her "if she had spare songs".
McGuinn ended his set with an encore of "Chimes of Freedom," another Dylan song electrified by the Byrds (and the last track recorded for their debut album). Then came a song he wrote with Camilla, "May the Road Rise to Meet You," and the sentiments of what is essentially a love song were no doubt shared by McGuinn's audience, who will be 80 years on July 13:
"Let the road rise to meet you
May the wind be at your back
May the sun shine warm on your land
May the rain fall gently on your face until we meet again
May God hold you in the palm of his hand…"
Watch McGuinn performs "Turn! Turn! Spin!" at an earlier solo concert
Latest posts by Thomas K. Arnold
(see everything)