Rediscover the pleasure of flying kites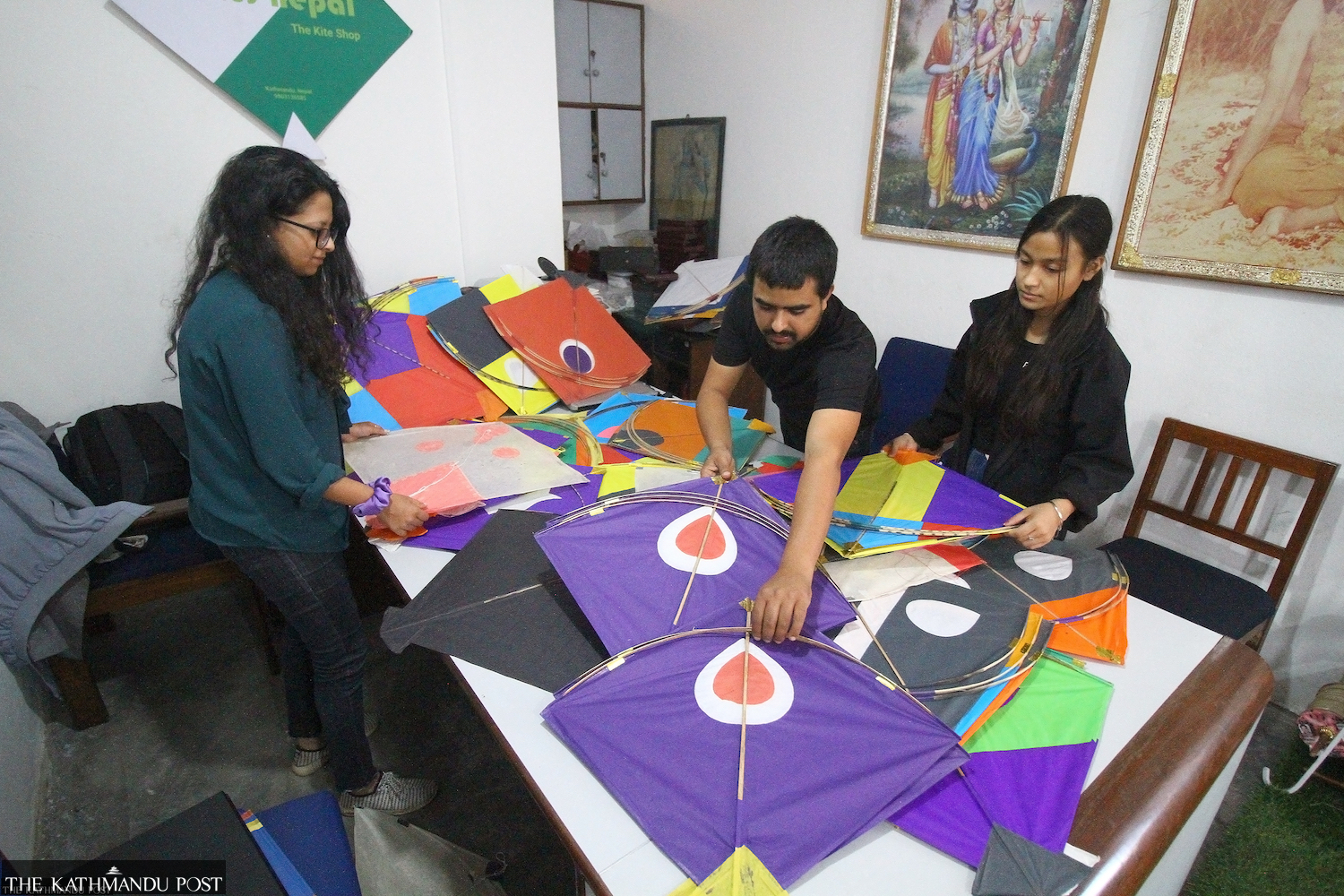 Growing up in Baluwatar in Kathmandu, Bikal Chalaugain's favorite thing to do during Dashain was to fly kites. Back then, Baluwatar was not as urbanized as it is today, Chaulagain says.
"Twenty years ago, the concrete buildings you see today were just expanses of rice fields. And a few weeks before Dashain, you could see people – young and old – from the region flying kites in the fields. I have many good memories flying kites in the fields of Baluwatar, "says Chaulagain. "When we were young, once you started seeing kites hovering in the sky, you knew Dashain was near."
Almost two decades later, things have changed. Like everywhere else in the city, concrete buildings have sprung up in the once open fields of Baluwatar. And the kite culture around Dashain has all but disappeared. Kathmandu's relationship with kites has changed.
"Even though Dashain is only three weeks away, you only see a handful of kites hovering in the skies over Kathmandu," Chaulagain explains.
His childhood love for kites and a nostalgia for how Kathmandu once celebrated Dashain led Chaulagain to start his business Kites Nepal.
"The idea to create this company came to me last year. The months of confinement made me want to practice outdoor activities. As Dashain approached, I decided to go to Kalimati to buy kites and the necessary equipment, "says Chaulagain. "I was so surprised to see vendors selling shoddy kites and gear at outrageous prices. I was quite shocked to see that while the prices for kites and equipment have gone up, the quality of the materials seems to have gone down. It was then that I decided to start my own business. The company is my attempt to make quality kites and equipment accessible to people, and I hope this will once again lead people to find fun flying kites during Dashain.
But why is it that kites fly exclusively in Dashain's time?
"Back in the days when the majority of the people in the valley were farmers, people believed that flying kites was a signal for Indra, the rain god, to stop the rain when the farmers were done. to plant crops by Dashain, "says Nirmal Man Tuladhar, a cultural heritage expert and linguistics professor at Tribhuvan University. "It is also believed that flying kites during a good time like Dashain brings happiness, good health and peace to the family. Some also believe that flying kites is a way to communicate with deceased family members and show them the way to heaven. "
Besides the social and cultural significance of kites, Dashain weather is also the one where the valley weather is most ideal for outdoor activities.
"This time of year marks the end of the monsoon, and the valley sees clear blue skies and a gentle breeze. These weather conditions make it perfect for kite flying, "explains Tuladhar. "In an agrarian valley in Kathmandu, it was the time when families finally had free time after months of working in the fields. As the period also marks the start of the holiday season, kite flying was a fun activity for families.
Tuladhar, who grew up in Asan, fondly remembers how the neighborhood sky was littered with kites during Dashain season.
"It used to be very difficult to fly kites in Asan during Dashain, because there were just too many kites in the sky. It's like that
popular kites were back then, "says Tuladhar.
The decline in kite culture, cultural observers say, has been gradual.
"As children, we used to fly kites on the roofs of our houses. At that time, the roofs were not fenced and it was quite common for children to fall over buildings while being absorbed by the kites, "says Tuladhar. "So naturally the parents preferred that the children fly kites in open fields or play indoors."
As Kathmandu urbanized and the open fields began to narrow, the only place people could fly kites was from the rooftops.
And then came video and PC games.
"After the introduction of video and PC games, children no longer found kites fun," explains Chaulagain. "By the time I was in seventh grade, I was so fascinated with video and PC games that I had stopped flying kites."
As Kathmandu has become more urbanized than ever and its people are busier than ever, Chaulagain realizes that flying kites again is no easy task.
"Nostalgia is a strong emotion and for many of us who grew up riding a kite, we all remember the joy we got from this activity. So I have high hopes, "says Chaulagain.
Initially, Chaulagain wanted Kites Nepal to make their own kites and gears. His goal was to make kites from Nepalese paper, but he soon realized that was not a practical idea.
"Making a kit using the traditional method takes around 20 minutes, and this aspect makes mass production of such kites long and expensive, and a machine that makes such kites costs around one million rupees," explains Chaulagain.
Instead, they decided to focus on importing quality kites and lattice directly from manufacturers in India.
"Traditionally in Nepal, kites use lattice to cut the strings of other kites, and premises lattice are designed to do just that. Corn lattice other countries do not have this characteristic, "says Tuladhar.
Growing up with kites, Chaulagain says he prefers to cut kite ropes using lattice.
"We also sell local products lattice so that those who want to get into kite fighting can get the tools they need to do so, "explains Chaulagain.
Apart from lattice, ropes are also a very important part of kite flying, and for Nepalese kite fights, manja is the most preferred channel.
"Traditionally, manja the ropes are made by coating ordinary ropes with a paste of glass dust, which helps cut the thread of other kites, "explains Tuladhar.
To market its products, Kites Nepal relies solely on social networks.
"Thanks to social media, startups like us can market our products without having to invest heavily in advertising," explains Chaulagain. "Customers can place orders through our social media pages and we also offer door-to-door delivery. "
Since kites fly exclusively during the month of Dashain, kite vendors like Kites Nepal have a window of one or two months to sell their products.
"Being a seasonal business comes with its own set of challenges. But selling kites is not the only thing we see ourselves doing, "explains Chaulagain. "We are planning to organize kites (chait changa) festivals and workshops for young children on kite making and flying. The objective is to rediscover the joys of the kite.