Muskogee's Okie: War Games A Lifetime Hobby | Lifestyles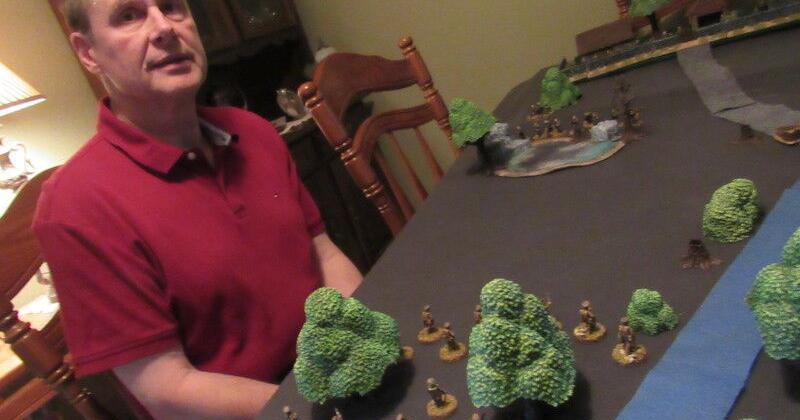 A battle rages on Dave Morgan's dining room table.
"We have a battalion of French and a battalion of British, then we have a reinforced battalion of Germans on the hill," he said. "Basically it's to try to take the strong point from the Germans, if the British and the French can.
The scene, depicting a World War I battle, is made up of soldiers just under half an inch tall that Morgan painted and arranged. It took him about an hour to set the table.
Morgan said he has been collecting and playing war games for 40 years. But his interest in the military started long before that.
"One year for Christmas, I was about 7 years old, my mother bought me the Marx soldiers," he said. "There were green Americans and I believe they were brown Germans. There were tank traps and tanks and the whole nine yards. I would scatter it on the ground and play for hours."
When Morgan was in college, an older uncle sparked an increased interest in toy soldiers.
"When he went to college, he started war games in the Napoleonic era," Morgan said. "I used to collect miniatures from the American Revolutionary War. Back then, on the back of the comics, you opened it up and it said '200 American Revolutionary Troops for 98 cents'."
After graduating from Muskogee High in 1978, Morgan entered the Marine Corps. He served until 1982 and met his wife while serving.
He now works as a technician for Muskogee Public Schools Child Nutrition Services.
Duty called, Morgan answered
Dave Morgan said a sense of family duty drew him to the US Marine Corps.
"I always felt like I was going to serve," he said. "My family serves. My father was in the army, my grandfathers were both in the army. My uncles, one was in the army, the other in the air force.
He called back a friend who suspected his motivation.
"A friend said, 'Davey, I know why you went to the Marines, you had to see you could do it,'" Morgan said. "I think that's more true than anything else. It's not so much that I like a challenge, it's just that I want to be the best I can be.
Morgan said his time in the Marines heightened his interest in miniature wargaming.
"The Marines teach you the history of the Marine Corps," he said. "And that teaches you to pay attention to the military look and your esprit de corps."
He said he had heard of Navy greats, including the most decorated Marine, Lt. Gen. Chesty Puller. They discovered battles such as Belleau Wood in World War I and island hopping on Guadalcanal in World War I.
"It's a Marine's legacy," he said. "I am privileged to have been able to serve with the wonderful people I have served."
Understand the ways of war
Morgan said he needed to know all about the tactics of warfare in the different time periods.
"You know, the American Civil War was fought one way and World War I was fought another way, because the weapons had changed so much," he said. "The War of Independence unfolded differently from the Civil War. You not only have to understand history, you have to understand military tactics and what was common in that era.
It has a library of non-fiction books, ranging from antiquity to World War II. The books cover the 30 Years War, British Civil War, War of the Roses, Civil War. Morgan uncovers fascinating details, including an example from the Civil War.
"You learn that during the Battle of Chickamauga the American commander wasn't paying much attention to the battle because he was visiting a widowed woman who had a farm nearby," he said.
He is particularly interested in the First World War.
"That's when we got into the wars of modern warfare," he said. "All the nasty things that happened, machine guns that could fire hundreds of rounds a minute, and gas. Bombs that could be thrown miles away. All the terrors of war in one thing. But the human spirit is something that has shined through, good versus evil and so on."
Use details in his "battles"
Morgan says he has around 1,000 metal soldiers, a conservative estimate.
They range in size from 15mm to 40mm and range from ancient Roman wars to World War II.
Morgan paints uniforms, flags, guns, eye patches on even the smallest figure.
"They have great attention to detail," he said. "You're dealing with different sizes of brushes and different consistencies of paint. Some are very thin and you put them on very thick. It depends on what you're doing right now."
He said he staged a scene and then moved his pieces according to the fighting tactics of the time.
"You have an idea in your head and you decide what you're going to do and how you're going to do it," he said. "You decide what is going to be difficult for both parties. Then you arrange it accordingly.
Morgan used his World War I table battle as an example. German soldiers were guarding a farm and 35 French soldiers and 24 British soldiers were approaching.
"Let's say they're moving over the bridge," he said. "They have to maintain a formation. They can't break the formation. If it breaks the formation, it loses its cohesion and that prevents the unit from functioning properly."
Q&A
HOW DID YOU COME TO BE A MUSKOGEE OKIE?
"Our family. Sherry has been here all her life. My grandparents moved here in 1968, and we came with them."
WHAT DO YOU LOVE MOST ABOUT MUSKOGEE?
"We love that we can go any direction and hit a lake, go fishing. We can go to antique stores. Sherry loves garage sales. We love that we're close to Tulsa , but not in Tulsa. And, of course, the people here."
WHAT MAKES MUSKOGEE A BETTER PLACE TO LIVE?
"It seems like over the last 20 years there has been some decline. It would be great if we had real businesses here instead of restaurants. Not that the restaurants are bad, but we really need those good jobs to support the community."
WHICH MUSKOGEE PERSON DO YOU ADMIRE THE MOST?
"The people I work with. The women who work in the kitchens to feed the children. I find it a privilege to work in a job where I support them. As soon as they arrive at school, they They "I cook, they clean, they serve. It is a privilege for me. It inspires me to do better. In my personal life, she is my wife. She makes me a better person. We will be married 41 years in May."
WHAT IS THE MOST MEMORABLE THING THAT HAPPENS TO YOU AT MUSKOGEE?
"My three children were born here. I got married here, I fell in love with my wife here."
WHAT DO YOU DO IN YOUR FREE TIME?
"During the summer months, we go to the Farmers Market on Saturdays. We go to the hot dog stand there. Our breakfast usually consists of two chili dogs for me and a kraut dog for Sherry. "We like to cycle to Spaulding Park. or sometimes to My Place Barbecue. We love the park. We spent a day with friends flying kites."
HOW WILL YOU SUMMARY MUSKOGEE IN 25 WORDS OR LESS?
"Muskogee has the potential to be better. We just have to find it within ourselves to do that."