Mike Locksley on D line health, improved defense, Jeshaun Jones and more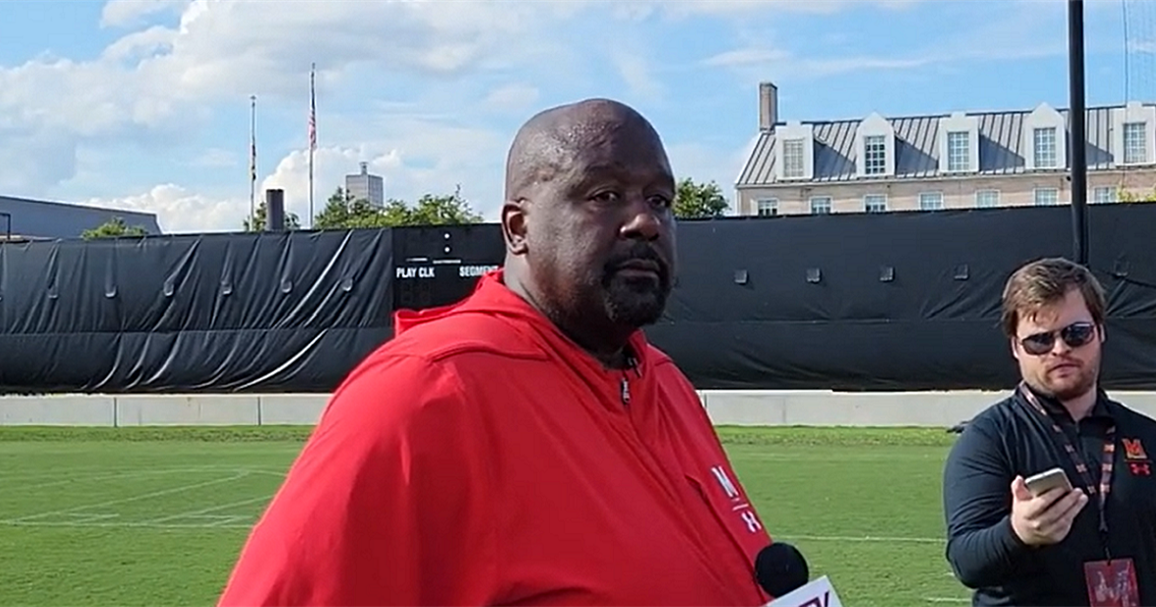 Maryland football was missing a lineman last week, Mo Kite, with a turf toe last week. And two other entries Sam Okuayinonu and Friend Finau, missed workout earlier this week. But it looks like they're all set for the Terps' game against Kent State this Saturday.
"They're fine. They're fine. Sam was a bit under the weather that day. So he was inside. And Ami had a doctor's appointment. But they both practiced Tuesday and Wednesday. They will both be available along with Mo Kite this week as well, "Locksley said Thursday.
This is good news for a significantly improved defensive front. Porous in recent years, the Maryland defense has allowed the fourth-fewest rushing yards per game in the Big Ten and has the second-most sacks.
"I think like I said last year, one of the things that happened, and that would have been in the second half of the Minnesota game, I thought we had started to do a better work to stop the race because we were committed to playing cover of the man. We loaded the box, we added the extra security in there, we found out we had a talented secondary who could play the cover of the man. man. And that allowed us to do it, "Locksley said.
"And so what I feel like you see now as we build on that obviously you've got Mo [Kite] and Friend [Finau], who are both a year older in our program. They both entered as junior level players a year ago, where they haven't necessarily received the full conditioning and training of the offseason. And so I think you're starting to see the fruits of these guys going through a full season on how we train and condition our guys and they both play well. "
There were also previously unknown defensive linemen who made an impact.
"We added depth to the first seven. But you see young players like Darrell jackson there, Greg Rose, really came for us and added great depth. Like I said before, the one guy that I think added a lot of value because he was able to add that extra year, Sam Okuayinonu … Who played really well for us, with Lawtez Rogers"said Locksley.
More from Locksley:
At Jeshaun jones: "Now, you know, he had a knee injury two years ago, when I first came here. Last year with an abridged season, it was you know, it takes another year at a year and a half to be comfortable. You know, he started a little slow this year, he missed a lot of work and training camp, had a heel injury that kept him from going. 'Coaching. So he didn't play that first game a lot. "Let's see, that's what we think he's very capable of. You know, he could easily be our number one. He's probably one of the best natural road racers we have. He plays with a physique in the racing game which I love. Obviously we need to clean up where we can't get the 15 yard penalties like you did last year, understanding the new rules. But you know, he's one of those guys who I think has a shot at playing the next one as he continues to develop. He began to develop chemistry with the quarterback. And he's a guy that we get into a game, say, hey, how do we find ways to give him the ball like we do with the Demus, like we do with the Rakim. "
To find out if there is a benefit to having an Iowa-Kent State movie: "Yeah, that's really not the case because when we study it I know we studied Kent State defense with me working with offense and what we do on offense versus what fact Iowa is a little different. So we study the structure of our opponent that we play, we study how they like to ally together we study There are tendencies and not necessarily looking at the opponent Now the only thing that jumps out that I know I'm always looking for when I start to study defenses, do people make big plays against them? Because what I found as a coach, you know, when the people are able to have consistency with big games, you look, is there a plan? Or is there a personnel issue as to why Kent State ditched the big game? this is a plan problem, we see, hey we do a part of that, how do we get take that call to make sure they've solved the problem or are solving their problems? And like I tell our coaches, if you show you can't hit the curveball in baseball, guess what? , the curved ball. So we're looking at some of the things others are doing that attacked or hurt our opponent. But we really don't spend time saying how to take a look at the Iowa offense here, in terms of preparation for next week, because we're really looking at the opposing sides of the ball more than the opponent. that you're playing. "
On Taulia Tagovailoa's improvements compared to last year: "I don't agree that he struggled last year, I mean he threw some interceptions. But like I told you, you watch the game from the Indiana a year ago, that was on us as coaches, me including that, you know he's a guy who because of his athleticism, and you know, I think this game we had three main routes. And they were playing drop seven cover, so everyone was double covered, and we had no control for him. And so for me, it wasn't very smart for me as a that guy that helps execute that offense. And I made the fix. So he's a guy that every one of his games should have checkdowns and places to go. I call him, he should have a starting point and a finish point in every game we play, and you have to give them a finish point. number eight for him as a starter. I mean, you're gonna s improve when you play. That's what I'm trying to tell you guys, we play a lot of you guys, they will only get better with every game because of experiencing some of the learning curves. And then I hate to see him throw interceptions. I hate to see us, you know, make bonehead games, but sometimes the only time you learn from it is through failure. And I think he really took a lot from last season, a level of comfort that he has in our offense. "
"I have to give Coach Enos a hell of a lot of credit, he did a terrific job of removing the gray from his readings. You know, he's one of those guys that works best when you say, 'Your key to movement is free security. If he does that, throw here, if he does that, throw there. And if not, move on to your progression. Is it open? Is it open? Is it open? ' And so we really worked, worked, worked and I think he's got a comfort level, the way he's trained and what we ask them to do. the time he spent in the program. And have an offseason. Again, a year ago he didn't have a spring prom a year ago, we didn't have a summer camp, where we went two a day and had meetings every day. I mean, we were zooming and practicing a day and you know, we split up all the time. So I think that's a lot of everything. "
Why it's so important to keep players coming back for matches: "A little different for me, because like you said, I trained and recruited almost all of them. You know, I've been spending time here since 1997. And then even then, kind of a fanboy of those that I was coached, you know, when I was here in the mid 80s as a Terps fan … So for me I just think as a coach you have to accept the fact that the story of this program is built on these guys, and I'm a guy who loves family very much, who loves open door politics. You know, that brotherhood or that line of gamers that come through here. , something that transcends time. If you played here in the 60s, you're always kinda connected to a guy playing now, because you represented this great place. So I believe a lot in, you know, being able to show what our past has been able to do and accomplish in their lives with or without football. And that is again great, as kind of a way to show our current players, like, now we have some successful guys too. And I think it helps recruiting too, when you look and see Stefon Diggs on the sidelines for a game and then you have a bunch of rookies in the stands and they say dude, he must have really enjoyed his time. And so on. I've had relationships with a lot of these guys since I've been here for 14 seasons. And I hope we can continue to do so. "