Kitefest takes off | Wareham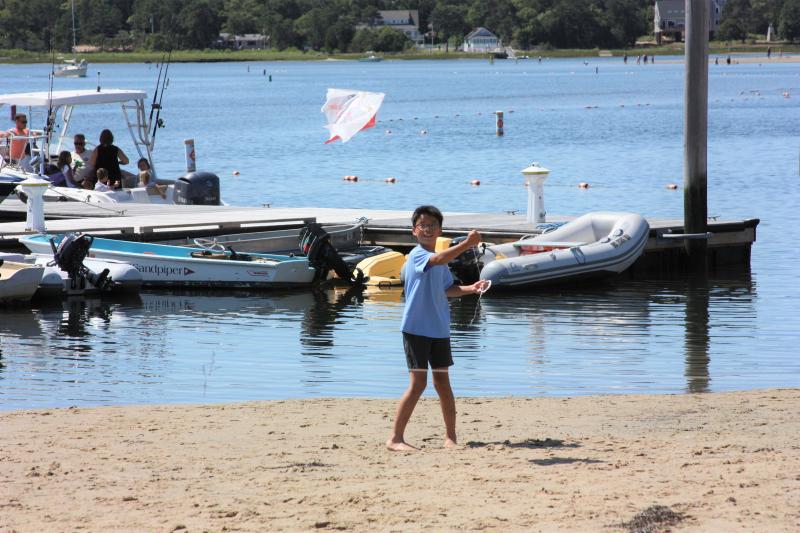 When the wind was cooperative, freshly decorated kites soared into the sunny blue skies of Onset Beach on Saturday, September 4, as part of the Onset Bay Association's sixth annual Kitefest.
Out of town visitors and families from Wareham gathered on the beach to decorate and fly kites with the help of a few volunteers from the association, including Milly Burrows, Jane Haupt, Melissa Goodell and Noah Young.
Onset Bay Association volunteer Amanda Cobb, who coordinated the event, said Kitefest drew children from Wareham and Onset, as well as many families from places such as Brockton, New Bedford, Rhode Island and New Jersey.
The festival offers something new and different for children to do, she said.
"Kids don't fly kites anymore," Cobb said. "For many children, this is their first time.
She said Kitefest is generally a big hit with families and children often fly their kites with their parents and grandparents. There's no pressure because it's not competitive, Cobb said.
From 10:00 a.m. to 2:00 p.m., plain white kites could be purchased from Onset Bay Association volunteers for $ 5, and there were plenty of markers on hand for the kids to spend time on. decorate their new kites.
"They spend about as much time – sometimes more time – decorating as they do flying," Cobb said.
The Kitefest was held, in part, thanks to contributions from the Wareham Cultural Council, Cobb said.
The Wareham Cultural Council is one of more than 300 local councils in the state that receive funding from the Massachusetts Cultural Council to support community projects and programs in the arts, humanities and sciences.
Kitefest was the last official Onset Bay Association event of the summer, but the group is still looking for volunteers to help with the events. Anyone interested can contact the association by email [email protected].