Hoffman Gallery's June Exhibition Opens June 3-27 | Community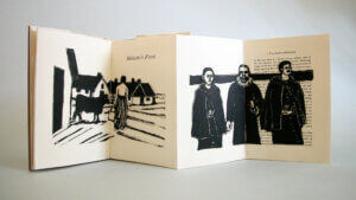 The Hoffman Gallery's June exhibition is open from 1 p.m. to 5 p.m. Thursday through Sunday from June 3 to 27. The show is free and open to the public. The Hoffman Center for the Arts is located at 594 Laneda Avenue in Manzanita.
The gallery will present the works of Poppy Dully and Emilio Lobato.
"My artist's books are the product of discoveries. The images follow the storyline and capture visual recordings of important thematic moments. Words and phrases surface, grab the reader's attention, and abstractly reinforce images. I like to explore how we process information. Is this the word or picture you gravitate towards first? How does one improve the other? How does chance change or improve our understanding?
The three intaglio prints were made from drawings made on Grass Mountain, a property recently acquired by the Sitka Center for Art and Ecology. These coastal subjects are a testament to my love of nature and my inherent need to explore and record where I go.
The ocean has long inspired fear, the desire to travel and, above all, rejuvenation. For over 30 years, Lobato has vacationed on the Oregon Coast in pursuit of these same things. For a week or two every year during this family vacation, Lobato fell in love with this landscape. The rugged coastline is the exact opposite of the southwest desert of Lobato's childhood. It had long been a goal of her "wish list" to return for an extended period, especially to create a body of work exploring this experience.
"Flights of Fancy" is a collage and mixed media series on panels produced on the Oregon Coast in early 2019.
"Flying acrobatic kites was my wife's favorite pastime while on vacation," Lobato said. "Over the years, many special memories have been created there. I wanted to explore images that expressed the whimsy, nostalgia, and expansion that the coast inspired.
Using maps of the northwest, historical documents collected in Astoria, and Japanese rice paper, Lobato fashioned paper planes which he then glued. The childhood hobby of making and launching paper planes evokes moments of recklessness, the desire to fly and, above all, to dream.