Find magic in the strangest places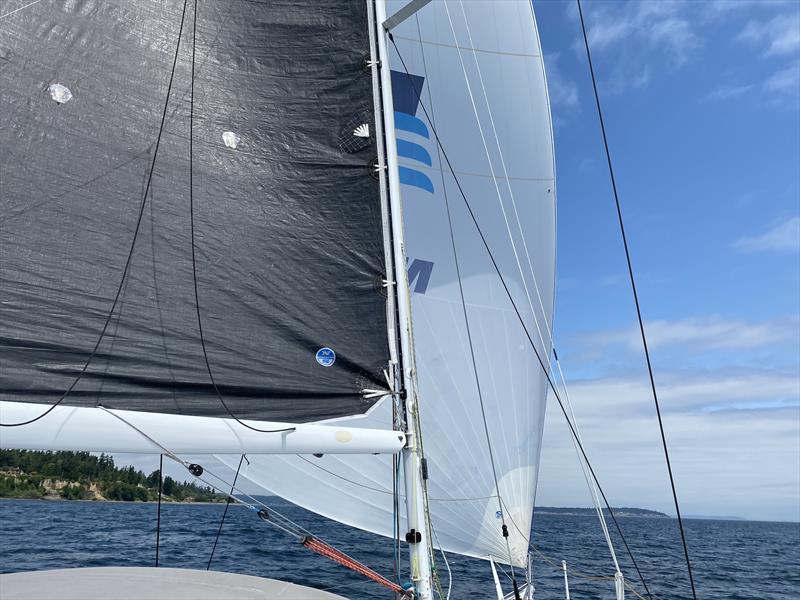 Find magic in the strangest places
by David Schmidt Jul 6 8:00 AM PDT
July 6, 2021
Dark Star sails off Bainbridge Island under a full mainsail and mainsail A © David Schmidt
While I made it clear in my last newsletter my not-so-hot feelings towards Guns' n Roses, like many, many sailors of my generation, my feelings towards the Grateful Dead probably lean towards the word "obsessive." This is a whole different article (opus?), But since we dealt with quotable lyrics last time, here is one straight out of the always brilliant pen of the late Robert Hunter: "Every now and then, we show you the light, in the strangest of places if you look closely. "
Remember, I have never found sailboats in weird places to learn or better appreciate – and understand – life, but weather forecasts sometimes have a way of cooling the spirits.
Case in point: I received an email last week from my good friend and skipper (and undead colleague) Jonathan McKee, asking if I wanted to sail his Riptide 44 designed by Paul Bieker, Black Star when I was in town. Of course, I immediately said enthusiastically yes, but a quick glance at my various weather apps (I'm not specifically naming any names here) started to dash my hopes: 3 to 5 knots, coming from the south , that would only be built by the time we had to remake our moorings quickly.
OK, maybe the navigation wouldn't be great, but any chance to ride cool boats with good friends is better than work, so I happily spun the wheels of my trusty VW south on the I-5. As I walked down to the dock, I couldn't help but notice that there was more air moving the halyards at Shilshole Bay Marina in Seattle than I expected. But rather than getting too excited, I tried to tell myself that it might just be a very localized shore breeze and that weather apps are (almost) always good.
JM and I spent the first bit inserting battens into the batten gussets, adjusting the batten tension and connecting the bat carts to his mainsail, which we leaned over. the black star rig like JM's loyal dog constantly watched us from his perch in the shade near the dock box.
We made short work of the mainsail, and soon got out of Shilshole, two men, a dog and 44ft of water weighted carbon fiber waterline our bow stepped out towards the Magnolia Discovery Park, where we hoisted the mainsail in the shadow of some high cliffs. The weather models indicated that the breeze was blowing from the south, but 5 knots gloriously manifested as a very stable 14-18 knots.
Since JM had mentioned a cruise close to Port Madison, which is across Puget Sound and slightly north of Seattle (on the north flank of Bainbridge Island), I thought we were going on a leisurely cruise in the mainsail. JM, of course, had different ideas.
"David, I'm afraid the quickest way to Port Madison is to drive the spinnaker," he said with a smile. I couldn't have agreed more.
Spinnaker sheets and a tack line quickly appeared on the deck, and I steered Black Star towards Bainbridge as JM rushed off, fixing everything, before heading up to the mast to work the halyard. The kite luckily had a snuffer, which made hoisting super easy, and JM carefully covered the spinnaker sausage with the mainsail as I prepared to hoist the sock.
WOW!
The kite inflated and the black star the whole attitude changed as her rigging, sails and appendages lit up. The speed of the boat increased from 5 to 11 knots in a few boat lengths.
"Every now and then you can see the light, in the strangest places if you look at it closely."
I returned to the cockpit and began to settle into the kite sheet cup when JM's true generosity manifested: "Do you want to drive?" he asked with a knowing smile.
I'm not sure my Sperry soles even found the deck, but my hands certainly found the port wheel in a hurry. While I sailed and ran with JM on Black Star for over a decade, it was a special moment: a perfect day on Puget Sound, amazing breeze, wonderfully wrong weather forecast and a chance to drive one of the coolest boats on the west coast with someone from Jonathan's sailing mastery making sure I didn't don't spoil things too much.
I'm honestly surprised my smile didn't split my face in two. But Black Star is good for producing that kind of feedback, especially when a perfect breeze and fast angles line up with the right sail plan and a carefree afternoon.
I admit my heartbeat picked up (OK, significantly) at the time of our first jibe. JM took the helm and I worked on the lazy spinnaker sheet but soon to use, and everything went well. (Deep sigh of relief.) Our second jibe was even smoother, and as I played the gear changes with the steering wheel afterwards, I immediately began to understand why double-handed sailing had become so popular.
Black Star had no trouble loading at 11-12 knots, maybe a click or two faster in puffs, and the only crew member not visibly showing elation was the dog, who was obediently curled up in a small circle under the bridges. Maybe her master and her boyfriend were doing something super cool with the boat, but there was a good chance her thoughts involved chasing tennis balls on the beach.
We saw a nice set of carbon sails flying from what appeared to be a new J / 99 on the horizon as we approached Port Madison. While it didn't take long to show them our backboard (a fair fight it sure wasn't), we were quickly faced with the reality of our next teardown (re-queuing my heartbeat accelerated). JM drove a deep course while I sniffed the kite. A few minutes later the kite was in the bag and JM and I were exchanging high-fives.
Although I have never robbed a bank (and I intend to keep it that way), I can only imagine that the feeling of pulling off a big heist is a bit similar to what we were going through: it was a Wednesday we should have been working but instead we rolled the dice on what felt like a fringe day of ghost sailing and instead came up with one of the best kite rides I've experienced since long time.
Granted, JM is one of the best sailing trainers (and sailors) on the planet, and he regularly flies kites in similar conditions on board. Black Star alone, but there was no doubt that my confidence level had jumped several levels. In fact, this day marked the first time that I had felt free from my artificial shoulder since it was "installed" in 2012, as well as the first time that I felt really capable of pushing it hard on a performance boat while riding. semi-engaged situation. (Editor's note: thank you, Concept2 and TRX!)
"Every now and then you can see the light, in the strangest places if you look at it closely."
We arrived at Port Madison, dropped the hook, and enjoyed lunch and post-kite bliss as we watched a group of Opti and ILCA sailors (née Laser) practice their tack and gybes. I can only imagine the feeling that a boat like Black Star had on these young minds, and I can only hope that they continue to sail long enough to have some of their own truly magical moments with their good friends and their boats. If so, they will be addicted for life. (Seems familiar?)
The breeze was still blowing from the south as we entered Puget Sound so we kept the mainsail chipped and enjoyed some cruising tunes en route to Shilshole Bay Marina. We spotted a few more kites on the water that day, and – just like the junior sailors at Port Madison – I crossed my fingers to make their days as perfect as ours.
While I have had the chance to sail again since last Wednesday, my smile has not faded, nor has my renewed confidence in my bionic sail. Still, I've reflected on the "good times to learn" of the day, and my emerging thesis is simple: Sail whenever you have the chance, whatever the weather. Ride with everything that happens on the boat, especially when you're sailing with people exponentially better and more experienced than you, and accept the challenges of unexpected adventures. Approach everything with an open, learning-focused mindset, and always work your best to make sure everything goes smoothly.
But, more importantly, be prepared and receptive to finding pure magic at times that the forecast calls marginal.
"Every now and then you can see the light, in the strangest places if you look at it closely."
May the four winds bring you home safely,
David schmidt
North American publisher of Sail-World.com