Famous Bird Guide Alvaro Jaramillo Hosts Raptor Talk at Half Moon Bay | Local News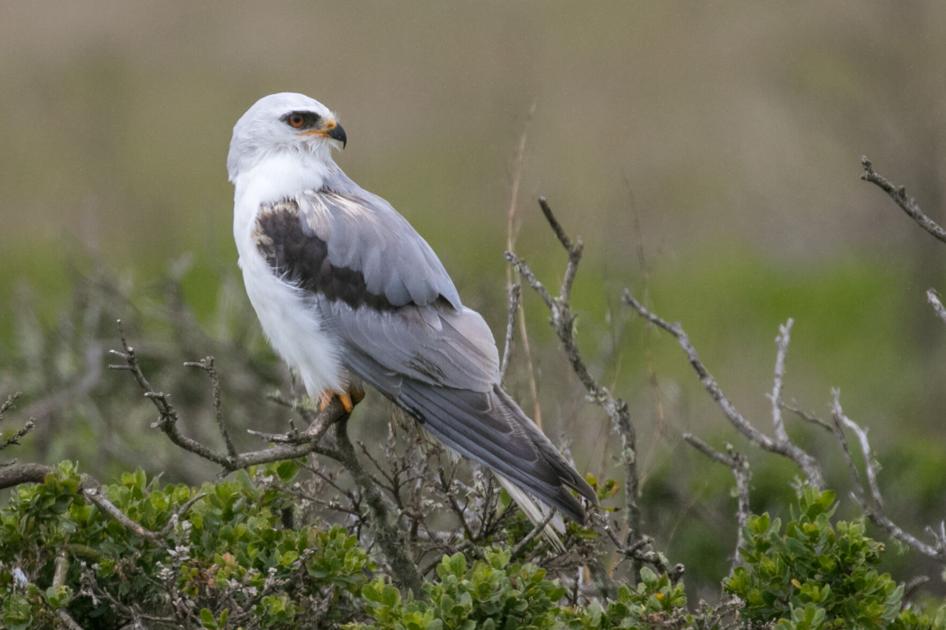 Bird watchers and anyone interested in an area important to San Mateo County for hawks, white-tailed kites, and hawks can learn more about the unique Wavecrest open space in Half Moon Bay this Saturday online with the international bird guide Alvaro Jaramillo.
"Birds are the best little ambassadors for getting people interested in nature," Jaramillo said.
The talk will take place on Saturday, August 7 at 10 a.m. on the local raptor population living at the Wavecrest Open Space, a bird watching area along the coast of Half Moon Bay. It is one of the most important sites on the coast for wintering raptors, which rely on the flat fields to catch rodents. Raptors are predatory birds with talons and are relatively large. They include white-tailed kites, northern harriers, turkey vultures, red-tailed hawks, American kestrels, and hawks. Jaramillo noted that birds are a constant reminder that humans are part of a bigger world and can teach people about their local environment.
Raptors often come to Wavecrest during the non-breeding season, from fall to early spring. Although the breeding population may be only a few pairs, many more appear due to the abundance of small rodents, such as field mice. Mouse populations experience cyclical booms, with some years seeing large numbers of raptors due to the increase in rodents. Some years see up to 70 kites, 20 hawks and other numbers of species. Jaramillo said the area is suitable for rodents, which in turn bring in raptors. Its coastal location, environmental conservation and the flat nature of the meadows make it an ideal location for raptors.
"It all adds up to being special in a way more than the average Bay Area area," Jaramillo said.
Raptors also dislike flying over water and often hug the coast when traveling, allowing the coast to serve as a natural corridor. Raptors can also see rodent urine traces in the distance and detect rodent ground activity, which Wavecrest has.
Jaramillo noted that he was happy that Wavecrest was still not developed, as there was a plan in the 1990s to turn the area into a subdivision of 300 homes. The project did not go any further and the area was conserved in part because it is an area of ​​high concentration of raptors of statewide importance.
"It's something that has been evaluated, how many hawks and kites get together there every now and then, so that's one of the reasons it wasn't developed because it seemed "To be too special a place to grow. Fortunately, now it's always great for raptors, and I think it always has been," said Jaramillo.
The effects of climate change are still unknown due to a lack of information on migration patterns, with no idea whether they originate from northern California, the Central Valley or other areas. Jaramillo noted that climate change could affect the breeding areas of the wintering raptor population due to forest fires, drought or changes in food supply.
"My educated guess would be that in the long run this will be a problem with a number of these raptors, although it may not happen locally as they come from all over the place," he said.
Jaramillo started birding at the age of 11 and decided to become a biologist. He eventually turned to interacting with birds and people through education, tours, and book writing. He now takes people to different countries to bird watch and learn about different cultures.
Jaramillo moved to the coast in the mid-1990s and known species associated with urbanization and development became common, such as crows and Canada geese. Some species known to be in grasslands and forest habitats are becoming scarce, such as loggerhead shrikes or yellow warblers. Theories say it could be due to pesticides or declining insect populations making survival more difficult.
"The yellow warbler used to nest in town. I could hear them singing all summer. They left; they are completely extinct from here as a breeding species, "Jaramillo said.
Jaramillo said the public remains interested in bald eagles and noted that a bald eagle showed up in Wavecrest last year, with a substantial increase statewide and region.
"There are probably more bald eagles in San Mateo County than golden eagles. Previously it was the other way around, "Jaramillo said.
He said those interested in helping birds should pay attention to the birds in the area, plant flowers for local insects to use, and support organic produce to help nature and the birds.
"I think the first thing is just to have fun, get started, go outside, watch the birds and think about them. I think this is the first step, "said Jaramillo.
Saturday's event will be both educational and entertaining and will provide an overview of the area's raptors without requiring attendees to have any prior information. The Half Moon Bay-based Coastside Land Trust will host the event. The organization is dedicated to preserving, protecting and enhancing the environment of open spaces in Half Moon Bay and the county.
People can register on the Coastside Land Trust webinar page coastsidelandtrust.org/webinars or get more information.
(650) 344-5200 ext 102