Families "Beat he Heat" t Family Day Event | Region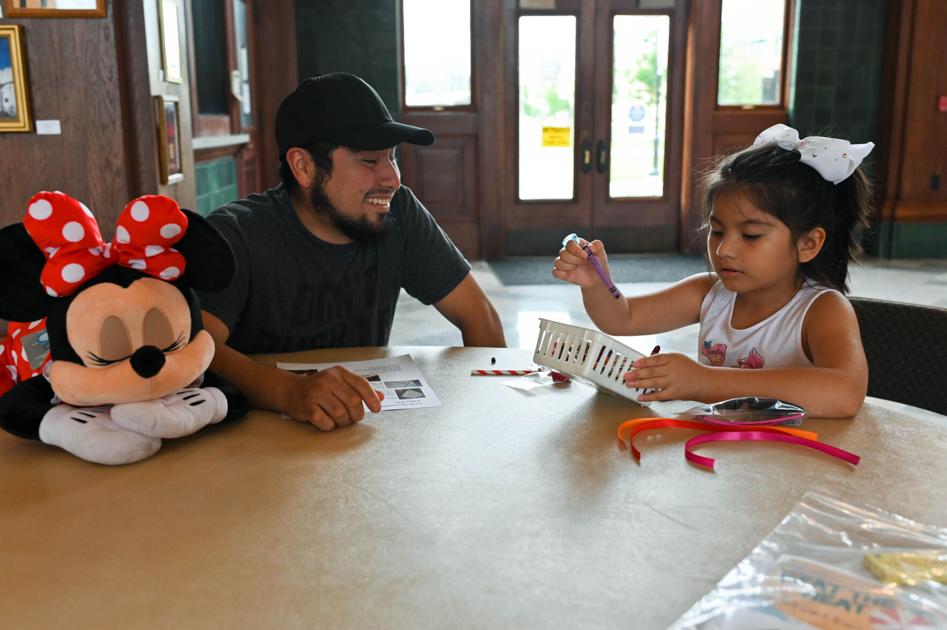 The rain weathered and the Temple Railroad and Heritage Museum was lively on Saturday for its monthly Family Day, themed "Beat the Heat: Backyard Fun".
"We're going back to a fully interactive mode," said Mike Hicks, director of the museum.
In another positive note, Hicks said the upstairs children's bedroom, which closed for about six weeks while the train route was being renovated, reopened on Saturday.
"It has doubled in size," he said.
Genevieve Stockburger, the museum's education coordinator, said it was the first time activity tables had been set up in the lobby since March 2020.
"I'm super excited about this," she said.
She and other museum staff gave the kids free pairs of sunglasses and summer-themed stickers. Families had the option to bring craft bags home or to a table in the lobby. There would be no away games, Stockburger said, due to the threat of rain.
Angela McLeaf, museum curator, helped distribute scissors and pencils.
"It's nice to see people back down," she said.
At one table, Cassi Coates, outreach coordinator for the Temple Public Library, enrolled the children in the summer reading program. Children will generally start returning to school at a lower reading level than they finished, she said.
"Reading keeps their mind active and helps them maintain their level," she said. "It helps their reading comprehension, vocabulary, grammar and spelling. "
The library is also enrolling adults in a summer reading program, she said.
In a corner of the hall, Cub Scout Pack 101 in Temple was recruiting, Cub Master Tina Amlin said.
"We are a family pack," she said. "We take boys and girls. We are trying to see if we can welcome new children for the fall.
She and other pack members handed out their fall calendar, with details on meetings, campsites and other outings.
"We still teach life skills and family values ​​in Scouts," she said. "Our big problem is learning while having fun."
Two Boy Scouts from Troop 101, Life Scout Caleb Fowler and Boy Scout Second Class Billy Thompson, showed the children how to tie a square knot.
Across the hall, Shelby Price from Killeen sat with her two children, Penelope, 3, and Daniel, 5, making small kites. Children would color their kites, tie pipe cleaners to them, and tie ribbons for the tails.
"We come to almost every family day," Price said. "We always come home with tons of stuff. We like it.
Nearby, Daniel and Makell Smith from Nolanville helped their children, Maeve, 2, and Aida, 4, build their kites.
"As our children are younger, we have to do everything," Makell said.
They just arrived at the museum on a family day, Daniel said.
"Our little girls love trains," he said. "They scare them but they are fascinated by them. There is a train passing near our place. Now we just want to see them up close and teach them all about trains. "
They were going to check everything at the museum, he said.
"We've heard this is one of the best things to do in Temple – come to this museum," he said.