Column: Music therapy as a festival – Quest Media Network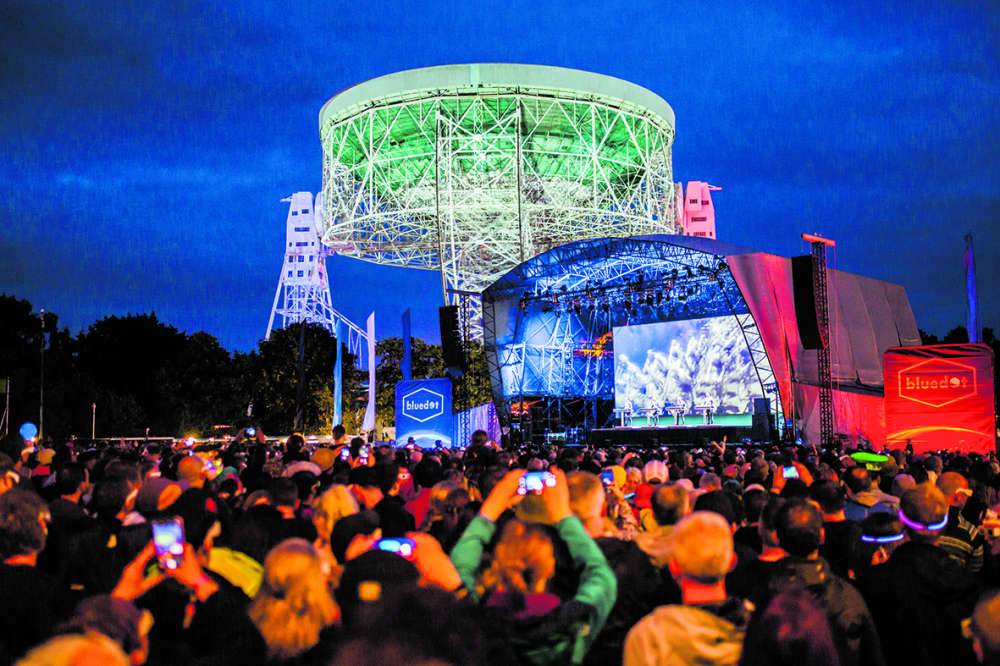 FESTIVAL FIRST: A double dose awaits Michael Taylor.
Before listening to Michael Taylor and Neil Summers on Tameside Radio on Sunday evening during their music therapy show, read their latest column for us…
Do you want to know a secret, I've never been to a festival, writes Michael Taylor.
I've been to mega raves, super clubs, seedy, smoke-filled gigs, stadiums, arenas, and even the Witchwood in Ashton.
But never at a festival. The closest was a very muddy Milton Keynes Bowl in 1985 to see U2 headline a mega day of music that included REM, The Ramones, Spear of Destiny and Billy Bragg.
It was great, but very, very wet and featured the one thing that kept me from going to a festival – awful toilets, and then the inevitable consequence of that, flying pee bottles.
Since then, every time I look at a festival lineup, I think about what the facilities and the food will be like.
I used to think that the festival how-to guides in the weekend papers should have had a graphic icon with a flying urine bottle on it, to indicate if that was somewhere it was likely to happen produce.
I understand why the festival organizers would not support this.
I haven't even been to a festival that I could literally walk back to, the annual Moovin festival in Compstall which to be honest looks very good.
Lots of people my age say they want to try to get to Glastonbury at least once. Good luck with that. The waiting list is huge and the rush for tickets is an absolute struggle. But if you're nice to Thomas in Brenda Warrington's office at Dukinfield Town Hall, he always seems to be sniffing tickets.
So this summer, I found two absolute stoppers.
Firstly, Kite Festival in Oxfordshire is presented as a festival of music and ideas.
As much as I can't wait to dance to Saint Etienne and Grace Jones, I can't wait to hear the conferences of David Miliband and Delia Smith (we're going to have you!).
It will certainly be a new experience to sleep in a rental motorhome for a few nights and it obviously depends a lot on the English weather.
The other, Bluedot Festival, is closer to home, just down the road in the atmospheric setting of Jodrell Bank Observatory in Cheshire on the third weekend in July.
It's literally the music therapy setlist in live form.
Headlining Sunday night with a UK festival exclusive and a unique commissioned performance alongside Manchester's renowned Halle Orchestra, international superstar Björk.
Legendary Scottish post-rockers Mogwai will headline Saturday night alongside electro indie giants Metronomy, while one of the most beloved dance groups, Groove Armada, close out Friday night.
The stellar lineup also includes Spiritualized, Yard Act, Working Men's Club, A Certain Ratio, Tim Burgess, Squarepusher and Anna Meredith among many other bands.
There's even an appearance in the spoken word tent of self-styled comedian Stewart Lee, talking about his musical documentary film King Rocker.
I've really rekindled my love of music over the past two years since we've been producing Music Therapy for you, and so the efforts of people in the music industry to put on very special shows like this are more welcome than ever.
And that's just a hunch, but I don't think I have to worry about flying bottles with this crowd.
You can listen to Michael Taylor and Neil Summers on Music Therapy on Tameside Radio 103.6FM on Sunday evenings from 9-11pm. Click here to subscribe and follow previous broadcasts.
Find out more about the Tameside Reporter
Click here for more breaking news
Click here to read the latest edition of the journal online
Click here to find out where you can get a copy of the newspaper