10 Batman villains who never appeared in the Arkham games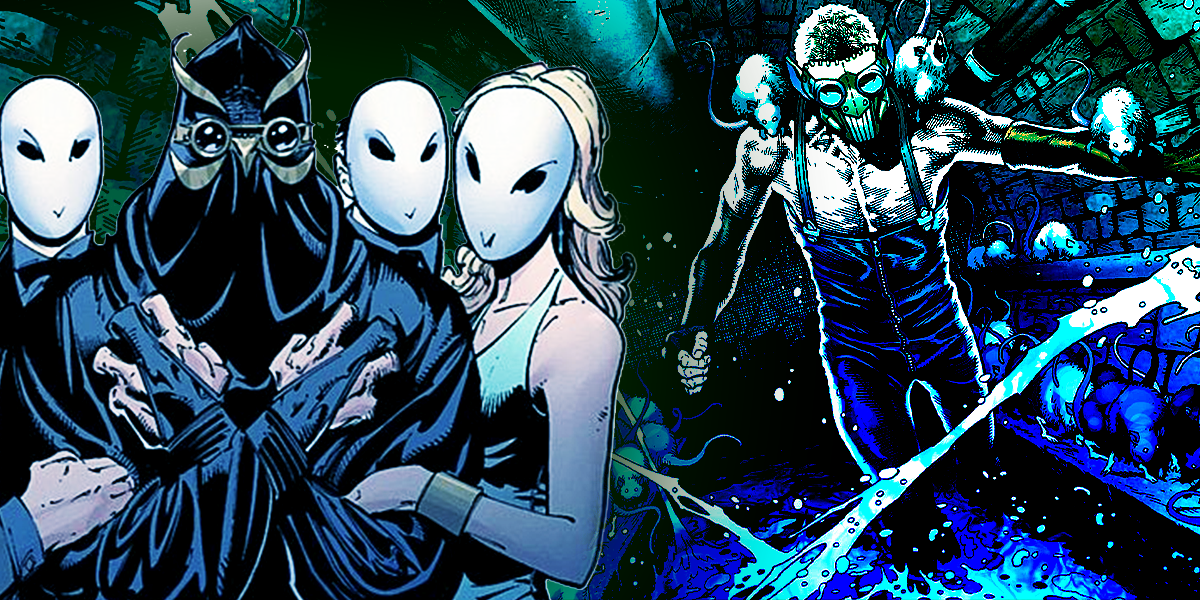 While Batman's video game career has seen many successes (and failures) over the years, there's no denying that the Arkham series of games – consisting of Arkham Asylum, Arkham City, Arkham Origins, and Knight of arkham – was a major victory for the Caped Crusader. Combining stealthy gameplay with rhythmic action (as well as a range of nifty gadgets to use, including its "Detective Vision"), the games have been a major hit with fans and critics alike.
RELATED: The 10 Best Batman Games Ever Made
Another major reason for the games' success was the huge roster of villains to fight for Batman, including obscure jobbers like Anarky. However, despite the games' aforementioned bench of villains, there were also several that didn't make the cut.
ten

The man with ten eyes would see Batman coming
Ten-Eyed Man, aka Philip Reardon, debuted in the 1970s Batman # 266. His power was to have eyeballs at his fingertips. While this is a "superpower" that doesn't initially seem very useful, Reardon's fingertip eyes gave him a 360-degree field of view. This made him both a dangerous fighter and a sniper. Therefore, there is no reason he couldn't be a disposable miniboss or even one of the assassins sent to kill Batman in Origins of Arkham.
9

Hell yeah! Kite man!
Kite Man has seen a surge in popularity recently, mainly due to the face he was Poison Ivy's doomed love interest for the big one. Harley quinn animated series. However, it first made its debut in the 1960s. Batman # 133 as a minor villain who, unsurprisingly, uses kites to commit crimes. His real name – Charles Brown – is based on the perpetually unlucky cartoon character Charlie Brown from Peanuts).
RELATED: 10 Most Dangerous Villains Batman Fought Against
Still, some sets involving him and Batman's sliding cape mechanic could be fun. For example, the possibility of a chase sequence in the sky.
8

Condiment King could have added flavor
For a villain specially created as a joke character for the Batman: The Animated Series episode, "Make 'Em Laugh", Condiment King has appeared in many other Batman media, such as The LEGO Batman movie, the Harley quinn animated series, and even the official comics. For a series as dark and sinister as the Arkham games, a little color and humor could have gone a long way – something the Condiment King could have easily provided.
7

The eraser would have made detective mode useless
The eraser debuted in the 1966s Batman # 188 as a supervillain "fix". He erased all clues to a crime scene using a special chemical compound on the top of his pencil-shaped helmet. This made solving crimes nearly impossible for both the police and Batman, which would have made The Eraser a fun villain to fight in the Arkham series. He could have completely canceled "Detective Mode" for any section of the game he was in.
6

King Tut could have had an Egyptian style arena
Villainous King Tut, who debuted in the '60s Adam West series before officially appearing in the comics in 2009, is a villain with an Egyptian aesthetic who believed he was the literal reincarnation of the eponymous ruler. During this time, City of Arkham 'The story told how part of Gotham City was turned into a huge prison enclosure that housed Batman's entire gallery of dangerous thugs. Of course, different sections of Arkham City were ultimately cut out and controlled by specific inmates – and with Tut in the mix – it could have led to an interesting Egyptian-style scene for Batman to hit henchmen, perhaps. in a historical exhibit at an abandoned museum.
5

Bite-Mite would bring gaming to a whole new reality
The Arkham games weren't shy about playing around with gameplay or making weird psychedelic backdrops. This was particularly noticeable in Knight of arkham where players controlled Batman as he hallucinated under the influence of the Scarecrow's fear toxins.
RELATED: Batman Villains Ranked: The 15 Worst Bruce Wayne Ever Faced
With Bat-Mite as Batman's potential foe, the development team could have had fun designing crazy, reality-distorting levels rushed by the Batman-obsessed magical pixie of the 5th dimension. Bat-Mite was more of a casual and misunderstood antagonist than a full-fledged villain, trying to stop his magical chaos in an optional side quest or something similar would be fun.
4

Potential Clock King Quick Time Events
As the name suggests, the Clock King is a villain obsessed with time and clocks. Debuting in the 1960s The best comics in the world # 111, his most famous iteration is arguably that of Batman: The Animated Series, voiced by Alan Rachins as a studious planner who brought The Riddler to shame. There are many ways the developers could have implemented the Clock King in games, from timed levels to a potential boss fight involving quick events (in some versions it can calculate the exact timing of Batman's attacks).
3

Orca as the boss killer
Orca is a tall, half-human, half-orc hybrid with super strength and enhanced killer whale-like abilities (such as underwater breathing and superhuman swimming). She debuted in the 2000s Batman # 579 as a marine biologist named Grace Balin.
RELATED: Batman: 10 Villains We Feel Really Bad For
Grace injected herself with Orc DNA and became a formidable physical enemy to the Dark Knight. In a Arkham game, she would be a great boss to fight – maybe after a hectic Batboat streak?
2

Catman … Because, why not?
Catman (aka Thomas Blake) debuted in the 1963s Police comics # 311 and is not one of Batman's most popular or well-known opponents. In fact, it's mostly referred to as a joke at this point. However, he can still be a compelling character depending on who writes it.
Regardless of his portrayal, he is a master melee fighter and would make an excellent miniboss for Batman to fight in any of the Arkham Games. Plus, his yellow-orange re-coloring of the Batman costume is pretty fun.
1

Savage Skull would look cool rendered in 3d
Savage Skull is the most obscure villain on this list. However, he has a striking and monstrous look. Make his first appearance in Batman # 360, Savage Skull was originally known as Police Officer Jack Crane.
Jack went mad after failing to stop an arsonist who disfigured him and was later fired from the police department for using excessive force on suspects. In a Arkham game, it would work well as a miniboss that Batman fights at one point. However, the main reason it's on this list is because it would look cool with modern video game graphics.
NEXT: DC: The 8 Best Batman B-List Villains, Ranked

Next
10 female game characters who evolved beyond their beginnings as a fan service